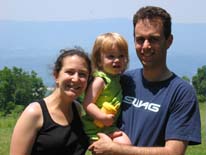 Elaine's Story
It has been nearly six years since I received my new liver. I was 28 years old in June 2000, a healthy, happy dog-walking lawyer, working and living in Washington, DC. I had recently come back from a family trip to Cuba where I had apparently contracted a rare and especially nasty form of Hepatitis B. This "fulminating" type meant that within the span of one week, I felt sick with flu-like symptoms, became too tired to walk my dog, and went into a coma.
On what may have been the last day, my amazing doctors at Inova Fairfax could keep me alive, the daughter of a 41-year old woman from Spokane, Washington saved my life. Her mother, also healthy, and who had just celebrated her granddaughter's third birthday, died of a sudden stroke, and the daughter chose to save not only my life but those of four other people as well, donating all of her mother's organs.
Two months after my transplant, I was back at work. A few months later, I met an old classmate on a hike, and we soon began to date. A year later we were engaged, then married in November 2002, and we delivered our first baby, Kayla, in June 2004. And we are expecting another addition to the family in August, 2006.
There is no way on earth to thank or repay people who give the gift of life. I only hope that this story, and many more like it, will encourage everyone to become organ donors and to ask their friends and family to do the same. Without people like you, there would not be people like me.